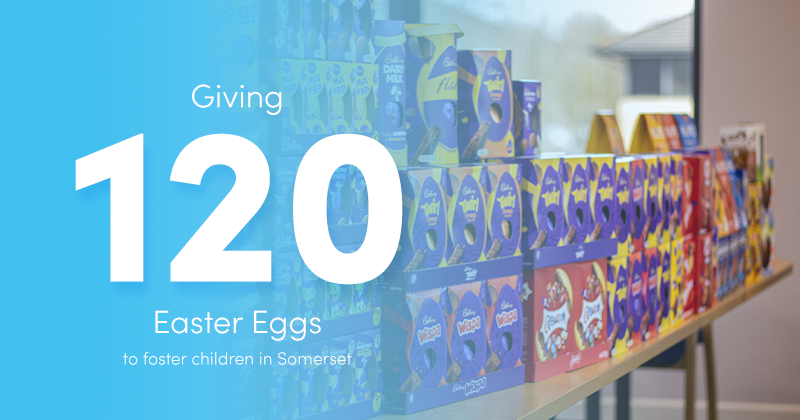 For April's pledge, in keeping with the time of year and the approach of Easter, we wanted to extend our March focus on giving back to the younger generations and this time thought, how better to celebrate than to donate 120 Easter eggs to children in the care of Somerset County Council.
Fostering in Somerset, part of the County Council, make a difference to the lives of vulnerable children and young people in Somerset by providing care for children who are unable to live with their own birth families. They support children and families from a variety of backgrounds and circumstances: from children aged birth to 16 years, children aged 16 and over moving out of care and towards independent living, Unaccompanied Asylum-Seeking children, and children with disabilities requiring respite care.
Regardless of common myths and assumptions, foster carers come from all walks of life and can be as diverse as the children and families in their care. Anyone can be a foster carer provided they meet 3 criteria:
are aged 21 or over (there is no upper age limit);
have a spare room in their home;
have no offences against children.
For those interested in becoming a foster carer, Fostering in Somerset recognises that it doesn't matter who you love, whether you own or rent a property, or even if you have children of your own. What matters most are a person's qualities, and their ability to commit to providing a safe and supportive home for a vulnerable child or young person.
The role of the foster carer is to provide care for children and young people unable to live with their birth families, supporting their holistic development and catering for their needs whatever those may entail. Some children may require more support than others depending on their circumstances, which is why the patience, love and understanding of their carers is of the utmost importance.
Every child has the right to be protected, and provided with a stable home and care givers who can meet their physical and social needs, as well as supporting their healthy growth, development and the ability to overcome difficulties in life. All adults should take steps to ensure that the children in their care are happy, healthy and have the opportunities to excel in their own ways – perhaps becoming the next generation of accountants in Taunton and across the country.
We hope that our donation of Easter eggs goes a little way to putting some smiles on the faces of local children looked after and supported by Fostering in Somerset.
Lead Member for Children and Families at Somerset County Council, Cllr Tessa Munt, said: "Many of us will spend time with family over Easter, perhaps enjoying egg hunts and other activities together, but for over 550 Somerset children in care, Easter won't be celebrated at home with their birth families. It's so kind of AC Mole to celebrate 120 years of their own success as a business by giving back to those who may be less fortunate; raising awareness for fostering and supporting vulnerable Somerset children with their generous donation of Easter eggs. Thank you for letting these young people know someone is thinking of them at this time of year.''
If you would like more information on how you could make a difference to the lives of vulnerable children and young people as a foster carer, please visit their website: www.fosteringinsomerset.org.uk.