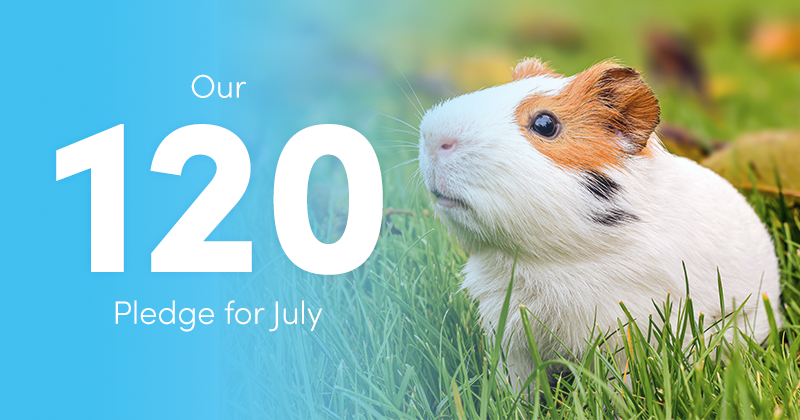 For July's pledge, we contacted the Conquest Centre to see if there was anything we could do to help.
The charity occupies 15 acres of land on a 150 acre arable farm in the beautiful Somerset countryside near Norton Fitzwarren.  Facilities include covered riding arenas, a woodland trail, a sensory room, forest school, changing places washroom, cabins for play therapy, art, counselling and make-up, a cafe, and much more. It offers professionally facilitated therapeutic activities for people of all ages and abilities.
Their skilled Mentors offer individual and person-centered nature-based support, working outdoors with a variety of special therapy animals. From horses and donkeys, sheep and goats to chicken and the most recent addition, guinea pigs, the animal companions play a vital role in enhancing well-being and personal growth.
In keeping with our 120 year theme, various options were discussed as to how we could support the Centre, including supplying 120 bales of hay or sponsoring a member of staff for 120 hours, however one thing the Conquest Centre really needed was a pen for their new guinea pigs.  Whilst we would have loved there to have been 120 guinea pigs for the new pen, currently there's not quite that many, however there are more than enough to make a difference and support the great job that the Conquest Centre is doing.
"We are thrilled to welcome our new guinea pig herd to Conquest Centre." said Jess Dixon, Centre Manager at Conquest Centre.  "These gentle and highly social animals have quickly captured the hearts of our many, bringing joy and wellbeing to clients of all ages.  Recognising the unique housing needs of guinea pigs, Conquest Centre is delighted to announce that AC Mole will be sponsoring the construction of a bespoke pen and run for these special animals.  As part of their 120-year celebrations, AC Mole's generous support will ensure that the guinea pigs have a safe, comfortable and enriching environment where they can thrive and enjoy their time at the farm."
To find out more about the Conquest Centre take a look at their website conquestcentre.org.uk