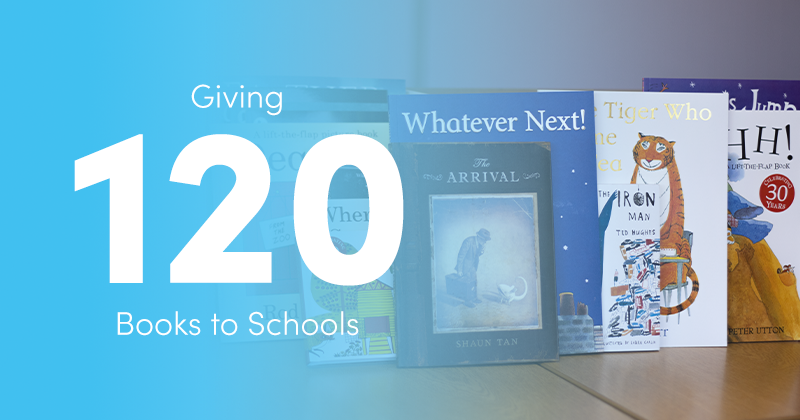 For March's pledge, we discussed how in which we could positively impact the lives of the youngest generations and the term 'Word Gap' sprung to the mind of one our colleagues. It is believed that children's vocabulary skills are directly linked to their economic backgrounds and that by 3 years of age, there is a 30 million word gap between children from the wealthiest and poorest families. When you think of the impact this would have on a child's language and cognitive development, as well as their personal, social and emotional development and the impact this will have throughout their lives, the extent of that possible word gap is staggering. With this in mind, as well as the knowledge that the first few years of a child's life are the most important, it is crucial that intervention is as early as possible to eliminate this lack of equality, and to ensure that all children regardless of their backgrounds, have access to an abundance of resources and interaction.
There are many ways in which we, as adults, can support the healthy growth of the language and cognitive development of younger generations such as:
Regularly reading to children, involving pictures, words, props, puppets and supportive resources where possible
Singing with children, again using props where possible
Engaging in role play, acting out scenarios alongside props and fancy dress costumes
Taking part in conversations with children, asking open ended questions whilst providing new words in a variety of different contexts
Role modelling language, using a rich and varied range of words and phrases
Commenting on what children are doing, giving them the tools to extend their vocabulary
In keeping with our 120 year celebration trend, we have decided to donate a total of 120 books shared between 3 local primary schools; Minerva Primary School, Blackbrook Primary School and Holway Park Community Primary School. With our donation we hope that the children can learn new and exciting stories, sharing books with their peers as well as their teachers and can go even just a little way to developing their curiosity, imagination and excitement for books for years to come.
Gareth Nation, Head of Minerva Primary School said: "We are delighted to receive this generous donation of books from A C Mole, which will make a very welcome addition to our library. Many of our children only have access to books through lending libraries, and this gift will help them to develop a love of reading from as young an age as possible, which will be of huge benefit to them in later life".
Barney Rycroft, Head of Blackbrook Primary School said: "This generous donation from A C Mole will support our school to provide engaging and inspiring books to pupils of all ages. Fostering a love of reading is crucial to support children to develop the skills they need to achieve well in school and life".
Jay Dehaan, Holway Park Community Primary School said: "The books we received will have a huge impact on the children at Holway Park. They will be used in every classroom throughout the school to encourage a love for reading and they will provide the teachers with a great opportunity to share a range of stories with the children they teach. We are extremely grateful for this kind gesture and would like to say a big thank you on behalf of everyone at our school".
As quoted by Dr Suess, "The more that you read, the more things you will know. The more things that you know, the more places you'll go!"