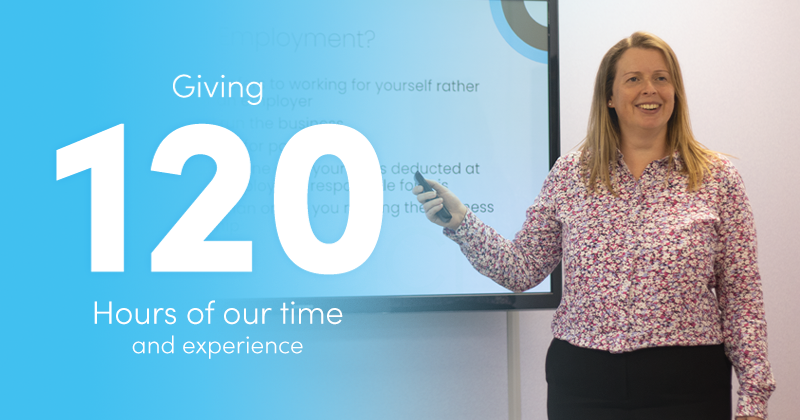 For May's pledge, we wanted to share our time and experience within the Accountancy sector to empower members of the public. Things that we take for granted, as we do them every day, but for the wider public they simply don't know which way to turn. But how could we link this to our 120th year celebrations? Obviously, it had to be 120 hours of our time!
We've split sharing our time and experience into two main events. Firstly, we're partnering with several local organisations to provide training sessions, and secondly, we're providing work experience for a number of students over the next few months.
We've currently partnered with:
CHARIS Refugees
Working to shape a national community-led resettlement programme to support refugees and displaced people, as they rebuild their lives in the UK.
Georgia Wilcocks, Operations Director for CHARIS Refugees said "At CHARIS, we offer Resettlement support to displaced people who are living in our area. The advice and information sessions from A C Mole have provided valuable guidance to those who are looking to become self-employed. UK systems can be very different from what people have been used to in their home countries, and having A C Mole come to provide an introduction and give information has been very helpful, enabling people to become more independent. As we work with people from many countries, we are especially grateful to have the team from A C Mole coming twice, so the session can be delivered with a Ukrainian and an Arabic interpreter to meet the needs of more people.
Thank you to the team at AC Mole for your time and great help in equipping and encouraging the goals of displaced people in Taunton."
CCS – Somerset Diverse Communities
Somerset Diverse Communities (SDC) works with and supports minority ethnic communities across Somerset.
Michał Pużyński. Somerset Diverse Communities Manager said "People choose to live and work in Somerset for a variety of reasons. Those who were not born in the UK face the challenges of language and cultural barriers. Many of them have the right qualifications, experience and creative ideas to run a successful business, but they do not know where to start their adventure with self-employment. Workshop offered by ACM enables diverse communities to supplement their knowledge about doing business in the UK. The time and effort of ACM, brings benefits not only to those directly interested, but also to the entire local community, which will be able to use the new services in the future."
SBA CIC
Provide advice, guidance and support to individuals, micro businesses and start-ups, as well as those businesses looking to grow. They support individuals to develop new skills and take the next steps in their careers with training and personal development.
Work Experience
We recognise how important it is for students to gain work experience so we currently have a number of students due to work with us over the next few months. They'll get the opportunity to see what it's like working in an office environment and will be involved in various areas of Accountancy including bookkeeping and accounts preparation.
It's an invaluable opportunity for students to gain real life experience to add to their academic studies.
Some of our previous work experience students enjoyed the experience so much they decided it was something they wanted to continue at college, and after finishing A Levels, came back to work for us full time!